You would like to reside in our comfortable villa with pool and breathtaking views to the sea?
Lisbon and Sintra shall be closeby? Our villa at Praia do Guincho is just what you are looking for!
Villa near Praia do Guincho
Welcome to Karma Surf Retreat – Guincho Villa – a charming seaview villa near Lisbon.
The villa is located in Malveira da Serra, a beautiful little village nested at the slopes of the Serra de Sintra, close to Praia do Guincho, with a large garden, pool area, yoga house and a breathtaking sea view. You will stay in a two storey modern furnished villa with 5 bedrooms, 1 apartment, large living and dining room, sauna and chill out pool area.
The villa is located in a beautiful 2000 sqm garden with natural surroundings and many small, hidden places to relax or meditate.
Guests can enjoy in this tranquil and secluded location the stunning sea and panoramic views of the coastline from Lisbon up to our home beach – the beach Praia do Guincho.
You can choose from 5 nice double rooms of which 3 have their own bathroom, each one designed differently with charming details. 2 rooms have privat balcony or terrace.
As usual at Karma Retreats, you will enjoy great and healthy food. Expect local fresh veggies, fruits and juices, homemade bread spreads for breakfast, delicious vegetarian/vegan as well as traditional Portuguese dishes, being part of your daily nutrition. For our Brazilian welcome BBQ, amongst other delicacies and veggie alternatives, we will serve finest south-american Picanha grilled to the point by our brazilian BBQ Chef Eliseu and mid-week you will be experiencing best Portuguese seafood dishes, everything served at the villa.
Rooms of Guincho Villa near Lisbon
Guincho Villa hosts 5 charming rooms decorated with love and zen simplicity. All rooms are accessible from inside the villa and 3 of them have splendid sea view. You can also opt for the appartment on ground level of the villa with a private terrace and separate entrance.
Room 1 with 2 single beds
Room 1 is actually a small suite with two single beds and its own bathroom with a bathtub. It is situated next to the kitchen and has a nice view over the big terrace and garden onto the ocean.
Appropriate for: 1-2 persons – like solo travelers, good friends or a couple.
Room 2 – suite with 1 double bed
Room 2 is a large suite with a double bed, its own bathroom and a small but private terrace with ocean view. On the terrace you will find a cozy loungesofa, chairs and table as well as hammock where you can have some "me"-time gazing across the land onto the coastline and ocean.
Appropriate for: 1-2 persons – like a solo traveler, very good friends or a couple.
Room 3 – suite with 2 single beds
Room 3 is a large room / suite with 2 single beds and its own private bathroom. The large corner window gives view to the luscious garden.
Appropriate for: 1-2 persons – like solo travelers, good friends or a couple.
Room 4 with 2 single beds
Room 4 is situated on the first floor and hosts 2 single beds. It has a little private balcony with small table and chairs inviting to enjoy the view over coastline and ocean. Bathroom is shared with room 5.
Appropriate for: 1-2 persons – like solo travelers, good friends or a couple.
Room 5 with 2 single beds
Room 5 is situated on the first floor, hosts 2 single beds and has garden views. Bathroom is shared with room 4.
Appropriate for: 1-2 persons – like solo travelers, good friends or a couple.
Guincho Villa's Apartment
You are a little family or a little group of friends and would like to share a room? You want a bit of privacy or have your own little cooking space? Then you might wanna check into our Apartment belonging to the Guincho Villa, but with a separate entrance and its own little terrace.
Apartment with 3 single beds
The Apartment is situated on ground level of Guincho Villa and has a separate entrance. It hosts 3 single beds, a table with chairs and satellite TV, as well as a small kitchenette and its own small bathroom. In front of the large panoramic window giving view to one of the yoga decks and the ocean it has its own little terrace.
Appropriate for: 1-3 persons – like solo travelers, good friends, couple or a small family.

Living and dining room
In line with our philosophy, the openess of the living room invites you to sit down and to get together and is the heart of the house.
The large panoramic windows give a view of the countryside and the Atlantic with two free couches and chairs to relax on. Be there to watch a movie on our large flat screen TV (DVD-player, SAT-TV and many movies available), or the dancing flames in the fireplace with a glass of Portuguese red wine.
Next door is the dining room with a table that seats 8 – 10 people and sea view. You will have intenet access via WiFi in the whole house and garden.
Pool area
The pool area is located just above the house and offers spectacular views onto the villages and ocean located below, outdoor shower and lawn for sunbathing and swimming areas. On hot days, a palm tree and a tree provide soothing shadow and a hammock is waiting for you to chill out.
Terrace
Our big terrace at the house also has a dining table ready for you to sit down and enjoy delitghful meals, e.g. our welcome-bbq! The wooden deck proofed as well perfect for daily outside yoga sessions viewing the atlantic ocean.
Garden
The garden impresses with its beautiful diverse and exotic plantation and boulders. It is composed in differnt levels where you can find many hide-aways, chillout areas and hammocks where you can relax to the fullest.
Kitchen
The kitchen is fully equipped and ready to use all the time. You have a stove, oven, a big american fridge with ice cube and water dispenser, freezer, microwave, coffee maker, toaster, orange squeezer, dishwasher, etc. at your disposal to create your own favorite dishes. A washing machine, tumble dryer, iron and ironing board are also available in a separate room.
We will constantly provide you with many tea variations, good portuguese coffee, chilled water and fresh fruits all day long. Tea, coffee, water and fresh fruits are complementary.
Jessica and Leonor
The two are happy to welcome you, care for your needs, organize anything and make you familiar with this wonderful place and the environment!
Food for your health
In the morning we serve you a healthy organic breakfast (buffet), consisting of cereal, organic fruit, bread, rolls, homemade jam, milk, yogurt, typical sausages and cheeses of the region and other Portuguese delicacies. We will also serve freshly juiced juices and green smoothies made from fruit and veggies of the season.
Moreover, coffee, various teas, water and fruit are at your disposal during your stay at the Karma Surf Retreat.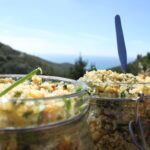 At noon we arrange a delicious healthy packed lunch to enjoy during or after your activities. You can have it at the beach or back home in the villa.
On top, we will organize a Brazilian welcome-BBQ plus a Portuguese seafood lunch. At all other times there is a fully equipped kitchen in the villa at your disposal, so you can prepare your favorite dishes and dine together, for example, on the terrace overlooking the sea watching the sunset.
In case you would like to eat out, there are several restaurants nearby, including typical Portuguese, seafood, grilled chicken, snacks, pizza and also a gourmet restaurant. For sure you will find something you like. You have an even bigger variety of restaurants in Cascais (15 mins). Even Lisbon's stunning culinary diversity (including vegetarian) is only 30 minutes by car and will not leave any wish unfulfilled.
Outdoor activities / packages offered
Whatever you would like to do in your favourite holidays, we have the right activity package paired with yoga for you. Choose amongst these or contact us for an individually tailored one!
How to get there?
Description
The Guincho Villa is located in a small village called Malveira da Serra, which is close to Praia do Guincho, 30 minutes from Lisbon.
The nearest Airport is Lisbon (LIS), which is in approx. 25km distance from the retreat. You will have to travel the remaining kms by rental car, bus, train, taxi or get picked up by us.
Check out our
FAQs
for more details on how to get there.
Map view


Anmerkungen
Suites (+100 €) haben ein eigenes Bad, eine ein Doppel- die andere 2 Einzelbetten. Eine sogar einen kleinen Balkon mit Meerblick.
Die Doppelzimmer haben 2 Einzelbetten. Eins sogar einen kleinen Balkon mit Meerblick.
Bei Einzelbelegung eines Doppelzimmers/Suite muss mit einem Zuschlag i.H.v. 400€ gerechhnet werden.