Fit & Health Retreat with Timo Gudrich in Portugal!
Join us for functional fitness- and TRX-Training, relaxing Yogaflows, individual health coaching as well as healthy food with Yoga- and personal trainer Timo Gudrich!

Contents

Quickfacts

7 days accommodation in double room / suite
Functional fitness- and TRX-Training
daily Yoga-Sessions
ad-hoc coaching (nutrition, fitness, health)
Rich (organic) breakfast
lunch package and dinner accoring to "fit&gud"-principle
Welcome BBQ (seafood / picanha)
Coffee, tea, water, juice & fruits all day!
Optional: 1-2 days surf course (including equipment), mountain biking & walks

Fit & Health Retreat with Yoga- and personal trainer Timo Gudrich
Datum: 27.09. – 04.10.2014
Preis:
995 €* (Doppelzimmer) / 1045 €* (Suite)
Limited No. of participants – so do not hesitate and book soon!
*price per person / week
Get in shape, healthy and slim with functional fitness- and TRX-training, Yogaflows and delicious healthy food by Timo Gudrich!
The western Atlantic coast near Lisbon is a secret spot among surfers and combines the best waves and unique nature with the cultural highlights of an exciting city nearby.
You will be accommodated in a comfortable villa with pool and sea view in the picturesque mountain village Malveira da Serra – nested in a paradise-like garden on the slopes of the Serra de Sintra. The south-facing and elevated position guarantees sun all day and a breathtaking view over the entire coastal region near Lisbon.
Surrounded by this beautiful surroundings you will be coached by fitness and nutrition expert Timo Gudrich and participate in an individual fitness- and nutrition programm. After this intensive week you will have learned a lot and feel rejuvenated. You will return home with a new body awareness and a smile on your lips.
2 daily trainings are waiting for you: a Yogasession that will balance body and mind and keep you flexible, as well as functional fitness training in small groups, which will be customized to your personal fitness level.  On top we will let you taste the beauty of Sintra's surroundings on nature walks and you can also try surfing the famous waves of Portugal.
You will enjoy organic breakfast, healthy lunch packages, a welcome BBQ and carbohydrate-reduced dinners. This week's nutrition will focus on taste as well as loosing some pounds and become strong at the same time!
Praia do Guincho, only 5 minutes by car, is one of the most beautiful beaches in the region and offers ideal surfing conditions for beginners and advanced.
The nearby nature reserve and beaches offer numerous other recreational activities, such as: surfing, golfing, stand up paddle, hiking, climbing, horse back riding, kite surfing, or sightseeing in Lisbon and Sintra and its surroundings.

You are accomodated in in our comfortable villa with pool, a paradisiacal garden and panoramic sea views from the entire plot.
You will sleep in stylishly furnished double rooms (some with private bath and balcony) and make use of all the amenities and areas of the villa, such as hammocks, deck chairs, chillout-/meditation-area and a fully equipped kitchen for your culinary well-being.
The cozy living room has TV, DVD and Wi-Fi ready for your entertainment. Of course, you also can watch the crackling fire in the fireplace while having a stimulating conversation at the couch.
The large panoramic windows in living and dining room treat you with unforgettable views over the country-side and the Atlantic Ocean.
The beautiful location of the property invites you to spend time outdoors, enjoying and letting the nature soak into your soul. The nearby Praia do Guincho, and the mystical forests of the Serra de Sintra are particularly magical places full of positive energy. There are of course numerous beaches with waves waiting to be explored.

"The sixpack comes from cooking!"
According to this motto we will have good and strong food which will help you burn body fat and develop lean muscles during this fit and health week.
You will have lots of delicious food mostly avoiding grain products and carbohydrates.
There will be heaps of fresh vegetables, strong protein sources from fish, meat, poulty, nuts and legumes.
In the morning we serve you a healthy organic breakfast (buffet), consisting of cereal, organic fruit, finest nuts, quark-linenoil-mousse, salmon, scrambled eggs and fresh orange juice.
A variety of Yogi-Teas, coffee and water are at your disposal the whole day.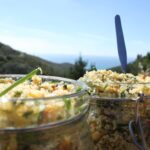 At noon we arrange a delicious healthy packed lunc, e.g. a salad variation with seeds and vegetables or a sandwhich with homemade bread and fruits, to enjoy during or after your activities.

On top, we will organize a surprise dinner plus a brazilian welcome-BBQ  full of rich flavours with one of the most tasty meat available: picanha. The daily dinners will satisfy your gums with different healthy variations put together by Timo Gudrich following his fit&gud-principles of nutrition. You will dine together, for example, on the terrace overlooking the sea after your intensive training by the pool.
Your personal trainer and coach:
Timo Gudrich
Born: August 17th, 1984
Living in: Dreieich (near Frankfurt am Main)
Profession: personal trainer, interdisciplinary yoga teacher, tennis- physiocoach
Favorite sports:  Tennis (at home), Surfing (travelling)
Favorite dish: Cocos-Curry-Salmon
Hobbies: fresh air, movement, cooking, enjoying food and sun on my skin, travelling, the ocean and mountains
Since more than 6 years Timo is full-time dedicated personal fitness trainer, yoga teacher, athletictrainer for tennis- and golf players, as well as coach for health/nutrition and prevention.
Besides exclusive one-on-one trainings he manages diverse fitness projects across Germany with 4 to 50 participants.
His greatest reward during his job is the joy of his clients, which achieve a better body and life ballance and manage day to day businesses with ease.
Timo is an avid athlete loving tennis, climbing, surfing and, of course, all kinds of fitness sports. As a countermeasure to all this active powering his source of relaxation is a special yoga and breathing routine, being a certified yoga teacher himself, which he passes on to his clients with passion.
Take a look at Timo' s fit & gud online platform with videos on the topics fitness, nutrition und healthy living. Here you can see him up close and in action:
www.fitundgud.de
Comments
Arrival & departure on Saturday.
The Suites (+50€) have a double bed/2 single beds and private bath. One of the suites even has a small terrace with sea view.
The double rooms have 2 single beds and share a bathroom. One of the double rooms has a small balcony with sea view.
The minimum required number of participants is 6.
5 reasons for fit & gud retreat:
Warm sun, pool and ocean view
Fitness-TRX-Training & Yoga
healthy food & nice people
comfortable & stylish accommodation
Pure fun & Relaxation!
Thank you for the "like"
Impressions: