Golf & Yoga
You enjoy playing golf and doing yoga? You would like to combine yoga and golf during your holidays? Then the golf & yoga package is the perfect choice for you!

Services

Prices

7 nights in double room / suite in villa with pool & sea view
5x coached* golf sessions (á 2h)
video analysis*
equipment (golf club, balls)
7x (organic) breakfast
5x lunch package
Welcome BBQ & seafood lunch
Coffee, tea, water, juice, milk and fruits free
Optional: coaching, yoga, sup, dinner, massages, hiking,..

* STARTUP and CLINIC

Yoga & Golf holidays in Portugal

Available Packages in all seasons (Mar-Nov):


*price per person / week
Golf and Yoga in one of Portugal's best golf resorts. 
Do you want to learn how to play golf or are you already an experienced golfer that is looking to improve his skills? Then come and join us at the Karma Surf Retreat Algarve for a week of golf & yoga. Our golf packages are tailored for beginners as well as intermediate or advanced golfers.
Golf coaching will take place at Santo Antonio Golf Course between Sagres and Lagos, right on the doorsteps of our beautiful and comfortable Algarve Villa with pool, which is ideally located beside the fairway of the 18th hole and overlooks the rolling fairways and greens of one of the most popular and challenging courses in the Algarve.
Our qualified PGA Golf Professional will explain, teach and demonstrate skills to help you learn the basic fundamentals of the game or to further improve your golf skills. Lessons will take place on the driving range, practice area or putting green and as part of a 9 or 18 hole playing lesson. We offer the perfect tuition package for your ability so whether you are a beginner or an experienced player we have the program for you. Golf equipment will be provided or you are welcome to bring your own. Upgrades are available to all packages and include additional lessons on course playing lessons and extra rounds.
Following the morning yoga session which will warm up your muscles and ligaments, you will enjoy a healthy organic breakfast with the rest of the group before meeting the professional at the driving range to start your lessons. After a delicious lunch at the villa and another evening yin yoga session to soothe and relax your body, you can fuel up enjoying a great dinner on the villas terrace or eating out in nearby restaurants.
The food consists of an organic breakfast, healthy lunch package, welcome BBQ and a Portuguese Seafood lunch, including soft drinks and fruit for free. The fully equipped kitchen is always at your disposal for preparing your favorite dishes with fresh ingredients from the nearby supermarket.
Those who are still striving for more activities can choose from the numerous activities offered at our retreat, including mountain biking, surfing, hiking, kayaking, etc. and explore the numerous nearby beaches and Costa Vicentina natural reserve.
You can choose 3 different golf-packages: PLAY, STARTUP and CLINIC.
| | | | | |
| --- | --- | --- | --- | --- |
| Package | Perfect for | Coach incl. | Buggy incl. | Price from |
| PLAY | intermediate/advanced golfers who just want to play golf. | no | yes | 1099€ |
| STARTUP | beginners who would like to learn how to play golf. | yes | yes | 1299€ |
| CLINIC | intermediate/advanced golfers who would like to improve their skills and handicap. | yes | yes | 1399€ |
For those who are already skilled, don't need coaching and would like to enjoy 5 days of playing golf on their own should opt for PLAY
PLAY
Just play golf – from 1099€
Perfect for intermediate and advanced golfers! No coaching included.
This package includes 5 rounds of golf (18 holes – green fee and buggy included). Golf will take place on the Golf Santo Antonio golf course just a footstep from the villa.
Coaching can be booked as an extra and individual tuition will be on a 1 to 1 basis or in small groups. Focus on your game is guaranteed.
Optional add-ons:
Coaching / 55mins (driving range): +50€
Coaching / 90mins (driving range): +75€
Coaching 9-holes (including green fee and buggy – 2:15): +110€
Coaching 18-holes (including green fee and buggy – 4:30): +210€
Golfclubs/bag / week: +100€



STARTUP and CLINIC include a golf coach teaching and taking care of you. So whether you are a beginner and would like to simply learn to play golf or if you are an intermediate or advanced player and would like to improve your game and handicap, then the aim is to improve your skills and abilities in an intense week of learning, in a beautiful environment and on a challenging golf course.
STARTUP (Beginners)
Introductory golf course – from 1299€
Perfect for beginners! Complete course on how to play golf.
This package consists of 5 days learning how to play golf. Each of the first four days will take place at the golf academy, short game practice ground or on one of the 4 putting greens at the resort. On the fifth day, the week will conclude with a 9 hole on course playing lesson with the professional.
The golf coaching packages at Karma Surf Retreat are the perfect way to achieve great results in a short space of time and are suitable for golfers of all levels. Each coaching package is unique; it is tailored specifically to each golfer because no two golfers or golf swings are the same. Whether you're a complete beginner wishing to learn the basic golf Principles or an advanced player who wants to improve their skills there is a perfect Karma golf coaching package for you.
CLINIC (Advanced Skills School)
Improve your game – from 1399€
Perfect for ambitious golfers! Personal golf trainer included.
This is the perfect package or those, who would like to improve their golfing skills during their yoga holidays, this is the perfect package. On the first day you will play a 9-hole course together with the coach in order to identify areas of improvement followed by definition of this week training goals. Coaching will take place at Santo Antonio Golf Resort golf course, including the golf academy, short game practice ground or on one of the 4 putting greens at the resort. The package will conclude with a 9 hole on course playing lesson with the professional golf coach on the final day.
Course Itinery: 
Day 1: 9 hole on course playing assessment with 1 shared buggy followed by discussion of training plan and individual goals for this week
Day 2-4: Coaching tailored to achieving the individual goals discussed – this may include putting, short game, bunkers, long game, woods and driver, difficult lies and will include video analysis and launch monitor.
Day 5: 1 hour coaching/revision followed by a 9 hole on course playing lesson with 1 shared buggy.
All coaching will be coordinated by the resident PGA Professional at Golf Santo Antonio Golf Club and will be on a 1 to 1 basis or in small bespoke groups. The first lesson will begin with an initial assessment of individual skills followed by coaching which will cover all aspects of the game including putting, chipping/pitching, bunker play, irons/woods. All coaching will be supported by Video Analysis using the GASP Swing analysis system.
Golf Santo Antonio
Framed by a valley that meanders through the course creating some undulating fairways, the Golf Santo Antonio course at Parque da Floresta is an impressive arena that has already been the stage for the prestigious Europro Tour. An undulating course with some sloping fairways, particularly on the front nine. Small well bunkered greens, many near lakes on the back nine, requiring a good degree of accuracy. The course is perfectly integrated into the landscape.

| | |
| --- | --- |
| Number of holes | 18 |
| Lenght | 5712m |
| Par | 71 |
| Opening year | 1987 |
| Architect | Pepe Gancedo |
To be played with accurate precision
The 1st hole of Santo Antonio Golf Course, 306 meters for a Par 4, presents a demanding tee shot to commence the round, for those intending to reach its green in just two shots. 
Hole 5 is a Par 3 over just 112 meters, although short, it is imperative to hit the green as there are sharp slopes on all sides, making par difficult if the green is missed.
The par 5 9th ranks among the toughest stroke-index 1 holes ever designed. At 490 meters, the third shot is steeply up hill and over a ravine.
A fascinating diversity
On the second nine of Golf Santo Antonio, the highlight is hole 11 a green protected by water, and is immediately followed by a par 5 that leads up the "Valley of the Wells" to another well protected green. Having played along the "Lost Valley" of the par 4 14th, with its spectacular views to the village of Figueira and the sea, you are faced with the dramatic tee shot of the par 3 15th. Here, on the tee, players are presented with an imposing view of a large, picturesque lake that has to be carried in order to reach the wide, but shallow, green.
Water again comes into play on the 16th and 17th where bold, yet accurate, tee shots will reap dividends for the brave, although both holes also prove rewarding to those golfers with higher handicaps.
Another notable hole of Golf Santo Antonio course is number 18, a fabulous finishing hole, placed right beneath the Clubhouse. The line is straight over the large pine tree setting up the approach to the elevated amphitheatre green where all your golf buddies are sure to be watching. Nothing like a little pressure at the finish!
The Clubhouse of Santo Antonio Golf Course is typically Portuguese and provides spectacular panoramic views over mountains and sea, and also a general view over much of the course
Technical Details
Type of terrain: A variety of shots from various terrain at times
Tree Lined: With Pines and eucalyptus
Buggy Recommended: Yes
Water hazards: Defined and can be seen
Type of course: Mixture of Heath and Parkland
Signature Hole: 5th
Comments: A demanding course for all handicaps, competitively priced
Main events on this course:
– Henry Cooper Charity Golf Classic
– David Seamen Safe Hands Charity Golf Classic
– PGA Europro Tour
Facilities
Golf Reception: Everyday from 07:45 to 18:00
Golf Shop: Everyday from 07:45 to 18:00
Driving Range: Yes
Putting Green: Yes
Locker Rooms: Yes
Clubhouse: With Restaurant and Snack bar
Buggies: Without GPS
Trolleys: Manual
Golf Clubs: Callaway | Wilson
Golf Lessons: Available
Academy: Yes
Juniors: Up to 18 years old
Stay in our luxury Algarve villa with pool, which is situated in the southwest Algarve, on the edge of the beautiful nature resort Costa Vicentina.
The villa is fully air-conditioned and equipped with high standard furnishing and a fireplace for cozy evenings.
Chill in a large private pool with loungers and enjoy stunning views, overlooking the greens of the golf course and views onto the south coast.
Lush green gardens surround the villa and pool. Several terraces offer complete privacy, shaded areas and grassed lawn with many corners to relax or meditate.
You will sleep in stylishly furnished double rooms/ suites and make use of all the amenities and areas of the villa, such as hammocks, deck chairs, chillout-/meditation-area and a fully equipped kitchen for your culinary well-being.
The cozy living room has TV, DVD and Wi-Fi ready for your entertainment. Of course, you also can watch the crackling fire in the fireplace while having a stimulating conversation on the couch.
For full accommodation description click through to Algarve-Villa
In the morning we serve you a healthy organic breakfast (buffet), consisting of cereal, organic fruit, bread, rolls, homemade jam, milk, yogurt, typical sausages and cheeses of the region and other Portuguese delicacies. We will also serve freshly juiced juices and green smoothies made from fruit and veggies of the season.
Moreover, coffee, various Yogi-teas, water and fruit are at your disposal during your stay at the Karma Surf Retreat.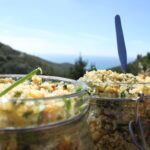 At noon we arrange a delicious healthy packed lunch to enjoy after your activities at the villa.
On top, we will organize a Brazilian welcome-BBQ plus a Portuguese seafood lunch. At all other times there is a fully equipped kitchen in the villa at your disposal, so you can prepare your favorite dishes and dine together, for example, on the terrace overlooking the sea watching the sunset.
In case you would like to eat out, there are several restaurants nearby, including typical Portuguese, seafood, grilled chicken, snacks, and a nice Pizzeria. For sure you will find something you like. You have an even bigger variety of restaurants in Lagos (15 mins) or Sagres (15mins).
This is how a typical week in Karma Surf Retreat looks like choosing the Golf & Yoga package:
Saturday: Arrival day! We will prepare a Brazilian Welcome-BBQ in the evening starting around 19:00.
Sunday: is for settling in, sightseeing and chillaxing. All activities start on Monday.
Monday to Friday enjoying the Golf Package:
8:00 – Morning Yoga
9:00 – Breakfast
10:00 – 17:00 (2-3h flexible)- Golf course (depending on golf package booked)
13:00/14:00 – Lunch
17:00 – Restorative Yoga
19:00 – Dinner (optional)
22:00 – sleep well 😉
In the middle of the week, at Wednesday, we will prepare a Seafood BBQ for you and you can enjoy Massages (optional)
Ian Stallard
Born in: UK
Lives in: Alcantarilha 🇵🇹
Profession: Fully qualified PGA Teaching Professional Favourite
Favorite sport: Rugby
Favorite food: Most Portuguese Dishes
Hobbies: Mountain Biking
I turned professional in 2008 and began my training at the PGA National Training Academy and Birmingham University in 2009, qualifying in 2012. Prior to my PGA training I completed a full 22 year military career in the Royal Signals. I was Assistant Professional at Kingsdown GC, Wiltshire under the watchful eye of Mr Andrew Butler, the Head Professional. Shortly after qualifying I moved to the Algarve and I currently hold the position of Teaching Professional at the Golf Santo Antonio Golf Academy, near Budens.
Living proof that it's never too late to try something new, I took up golf when I was almost 30 thanks mainly to a recurring knee injury caused playing my first love, rugby, where I represented the Army. Never did I think that one day I might become a golf pro when a friend first asked me if I fancied a 'knock around'. I had never even picked up a 'proper' golf club, just a rubber headed putter at Crazy Golf when playing with my daughters. My friend had a handicap of 2 and he ingrained in me the fundamentals of a good golf swing, inside 2 years I had a single figure handicap, by the 3rd year I was a Cat 1 golfer. I was proud to captain the successful Royal Signals Corps team at the Army Championships; I was later selected to represent the Army. Life begins at 40 they say but for me it was 45 when I started my PGA training, and so began a great 3 years of insight into the role of a PGA Professional.
My daughters still regularly beat me at crazy golf mainly because I can't get past the windmill…
Inclusive:
Sea view
Pool
Fireplace
Internet flatrate/ WiFi
Video-analysis
Maid cleaning service
homemade marmelade
daily fruit
Cofee & tea
Water & juice
Welcome drink
Organization of activities
Extra Services:
Airport shuttle: Guincho: 50€/trip (1-3 pers.), 80€/trip (4-6 pers.), Algarve: 80€/trip
Extra Yoga: 40€/hour
Pilates: 40€/hour
Massage: 55€/hour
Physiotherapy*
Child Care: 15€/hour
Bicycles*
Surf equipment (Surfboards (50€/week), wetsuit, Stand-up-Paddle)*
Sightseeing-Tour*
MTB-Tour*
Quad-Tour*
Horseback riding (at the beach)*
*Price upon request
Comments
Activities / classes are held Monday to Friday. Additional sessions on request.
Arrival & departure is usually Saturdays.
Extension weeks: 1=5%, 2+=10% discount off the full price.
In high-season the minimum required number of participants is 6 persons
5 reasons for yoga & golf holiday
Warm sun, pool & sea view
Great coached golfing & yoga
Healthy food & nice people
Luxurious & stylish accommodation
Fun & pure relaxation!
Thank you for the "like"
Golf Holidays Impressions: