New Years Eve – Lisbon Yoga Retreat
For everyone who wants to escape the winter blues and start the New Year healthy, sportive and detoxed. Add an outdoor activity and join us for a week of pure bliss and celebrate New Years Eve with us!
Double Room
Shared bathroom
7 days accomodation in double room (suite optional +100€)

10x1h Yoga classes

famous (organic) breakfast

Packed lunch (vegetarian)

Welcome BBQ

New Years Eve dinner

New Years Day hike

Optional

Activity Package: choose 3 out of 5 activities (hiking, SUP, surfing, MTB or climbing): +200€
5x Vegetarian Dinner: +90€ (package) or 20€ on demand
Suite/ Double Room
en-suite bathroom
7 days accomodation in double room (suite optional +100€)

10x1h Yoga classes

famous (organic) breakfast

Packed lunch (vegetarian)

Welcome BBQ

New Years Eve dinner

New Years Day hike

Optional

Activity Package: choose 3 out of 5 activities (hiking, SUP, surfing, MTB or climbing): +200€
5x Vegetarian Dinner: +90€ (package) or 20€ on demand
Starting the new year with a cleansing and sportive Yoga Retreat in Portugal – welcome to the New Years Eve Yoga Retreat 2022: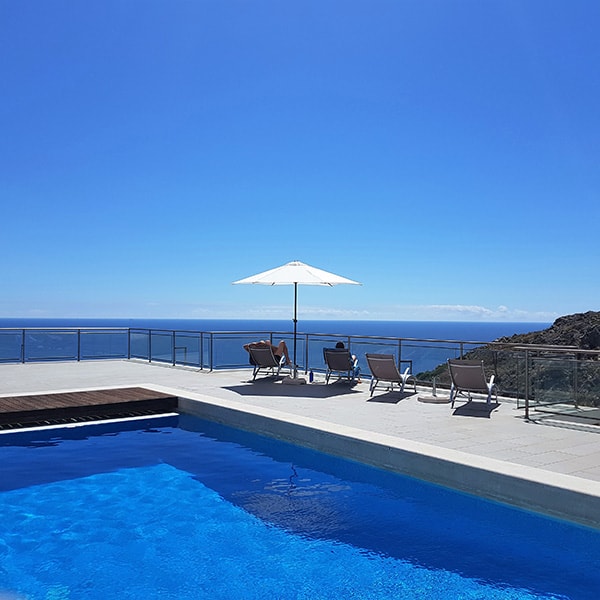 Your favourite activity (surfing, sup or hiking, biking or climbing – according to weather conditions) and lots of relaxing time and healthy food. This is the recipe of this years New Years Eve Retreat. The mixture of Yoga and sportive outdoor activities will set your mind at ease and put yourself into a relaxing balance that makes you start happy and regenerated into the New Year.
You will be accommodated in a comfortable villa with pool and sea view in Malveira da Serra beautiful little village nested at the slopes of the Serra de Sintra, close to Praia do Guincho, with a large garden, pool area, yoga house and a breathtaking sea view. You will stay in a two storey modern furnished villa with 5 bedrooms, 1 apartment, large living and dining room, sauna and chill out pool area. The villa is located in a beautiful 2000 sqm garden with natural surroundings and many small, hidden places to relax or meditate. Guests can enjoy in this tranquil and secluded location the stunning sea and panoramic views of the coastline from Lisbon up to our home beach – the beach Praia do Guincho.
Our certified 
yoga teacher 
is experienced and teaches 
Yoga daily
 2 times at 5 days for 1 hour.
You will enjoy organic breakfast, healthy lunch packages and start the week with a welcome BBQ. You can also opt to be pampered extra by our kitchen fairy Leonor with a vegetarian 3-course menu every evening. In addition, there is a communal kitchen, where you could prepare your favorite dishes with fresh ingredients from the nearby supermarket
Praia do Guincho, only 5 mins by car, is one of the most beautiful beaches in the region and offers ideal surfing conditions for beginners and advanced.
If you have any energy on top, you can do numerous other recreational activities, such as: surfing, play golf, stand up paddle, hiking, climbing, horse riding, kite surfing, or sightseeing in Lisbon and Sintra and its surroundings.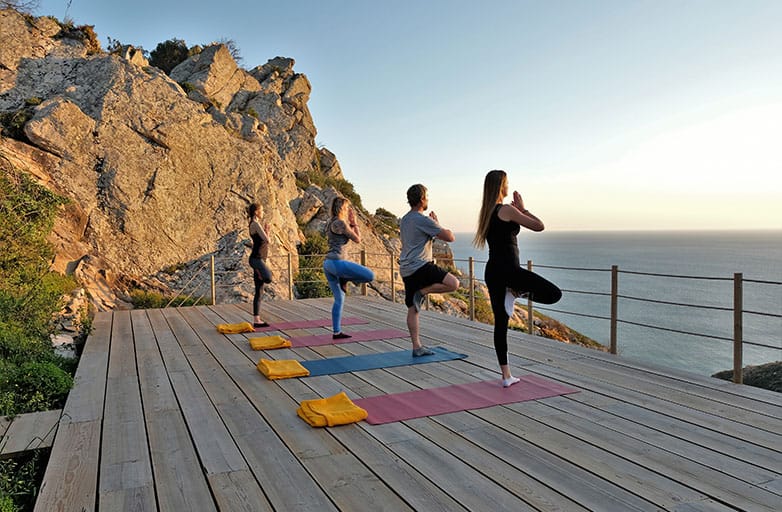 You are accommodated in in our beautiful boutique style Guincho Villa with pool, sauna, wild-romantic garden and panoramic sea views from the entire plot.
You will sleep in stylishly furnished double rooms (some with private bath and balcony) and make use of all the amenities and areas of the villa, such as hammocks, deck chairs, chillout-/meditation-area, pc, video beamer, sauna and a fully equipped kitchen for your culinary well-being.
The cozy living room has TV, DVD and Wi-Fi ready for your entertainment. Of course, you also can watch the crackling fire in the fireplace while having a stimulating conversation on the couch.
The large panoramic windows in living and dining room treat you with unforgettable views over the coastline and the Atlantic Ocean.
The beautiful location of the property invites you to spend time outdoors, enjoying and letting the nature soak into your soul. The nearby Praia do Guincho, and the mystical forests of the Serra de Sintra are particularly magical places full of positive energy. There are of course numerous beaches with waves waiting to be explored.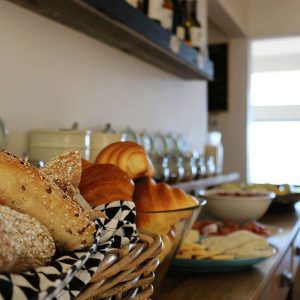 Breakfast & Lunch
In the morning we serve you a healthy organic breakfast (buffet), consisting of cereal, organic fruit, bread, rolls, homemade jam, milk, yogurt, typical sausages and cheeses of the region and other Portuguese delicacies.
Moreover, coffee, various teas, water and fruit are at your disposal during your stay at the Karma Surf Retreat.
At noon we arrange a delicious healthy packed lunch to enjoy during or after your activities. Maybe you will discover a neat typical portuguese snack bar during your mountain bike rides to have a quick coffee. Alongside the trials you will find fountains with Sintra spring water to fill up your bottle.
New Years Eve Dinner
On top, we will organize a welcome dinner and a New Years Eve dinner. At all other times there is a fully equipped kitchen of the the villa at your disposal, so you can prepare your favorite dishes and dine together, for example, on the terrace overlooking the sea watching the sunset.
For New Years Eve we will prepare a Karma Retreat -like New Years Eve feast. Everyone who has already been here will know that this will be something to remember. After this, everyone is free to hang out and celebrate with us at the villa or head into town to go crazy.
Dinner & Eating out
If you would like to enjoy your dinners at the villa, you can optionally book the veggie dinner package. It includes a 3 course catered vegetarian dinner, prepared by our kitchen fairy Leonor. If you book in advance for the whole week you additionally pay only 90€. You can also book on demand for 20€ on a day to day basis.
In case you would like to eat out, there are several restaurants nearby, including typical Portuguese, seafood, grilled chicken, snacks, and pizza. For sure you will wind something you like. You have an even bigger variety of restaurants from just 15min. close in Cascais. Even Lisbon with his stunning culinary diversity (including vegetarian) is 30 minutes by car only will not leave any wish unfulfilled.
With the 
New Years Eve Yoga Retreat 
 you will enjoy 
outdoor activities and yoga lessons on min. 5 days
.
You will start your days with a gentle yoga class and morning meditation, which aims to prepare your body and mind for the challenges to come. The energy needed you will accumulate during the healthy and delicious organic breakfast.
After breakfast, you can opt for outdoor activities, such as surfing, SUP (stand up paddleboarding), climbing, MTB (mountain biking) or hiking at the nearby ocean, Serra de Sintra and its surroundings. Depending on the group's fitness and skill level of the group the activities are being adapted. You'll enjoy breathtaking impressions of the nature surrounding us here – promised. You can, of course as well head out for sightseeing or chill at the house.
After your workout, you can relax and stretch your muscles and ligaments during the early evening yoga session. This will help you recover quickly from the efforts of the day and start the relaxing part of the evening.
Then everyone does as he/she prefers: Dining all together at the Villa during the sunset, relaxing with a soft drink or tea by the pool, lounging at the couch and reading a book in front of the fireplace, or just hanging out in the hammock… We are sure that you will find a variety of options that makes you happiest.
New Years Eve we will have an exceptional delicious dinner created by Leonor, our head chef de cuisine. Those who want, can head out to celebrate like crazy in Lisbon (shuttle optional) or Cascais or enjoy the first hours of the new year on our terrace watching the fireworks going off in Cascais, Estoril and along the coastline.
On Jan 1st we will sleep in and also have a nice New Years hike, or, if the conditions are suitable and depending on the groups preferences, a sup or surf session.
Saturday (arrival/departure day) and Sunday can be used to explore the surrounding area (e.g. sightseeing in Lisbon, Sintra and Cascais), lounging at the beach, the pool or enjoying one of the many recreational activities possible nearby, such as horseback riding, golf, rock climbing, mountain biking, scuba diving … and and and (whatever you want – we make it happen!)
At the end of this week you will have experienced life, yourself, improved your yoga skills and met some new like-minded people. You are going to return fit and relaxed and cope easily with everyday live back home, taking with you lots of good memories and looking forward to your next stay.
Filipa Veiga
Born: September 16th in Aveiro, Portugal
Lives in: Estoril (Portugal)
Profession: Yoga Teacher, blogger and journalist
Favorite sport: dance, loosing myself in the forests
Favorite food: nothing like my moms's food
Hobbies: writing, reading, gardening with my girls, going to the beach and enjoying the bliss of life.
As a former dancer, Filipa Veiga began her Ashtanga Yoga practice as taught by Sri K. Pattabhi Jois in Lisbon in 2004 with Isa Guitana and Tarik van Prehn. Since then, she engaged in variant forms of yoga during her travels to India for further research into the practice. Filipa has been teaching for the past 5 years, specially in the the Yoga Meca, Ubud, in Bali. As an international yoga teacher, her aim is to inspire as many people as possible to live healthy and happy lives by implementing the practise of yoga and eat healthy nourishing food.
She follows the Ashtanga traditional method of teaching giving special attention to each student focusing in the alignment of the body. Studying Ayurveda for the past years, both in India and America, has given her a medicinal approach of the practice of yoga. She also gives Ayurvedic life-style consultations that help each individual to understand the guide lines how to live healthy and complete. Filipa travels every year to India to study with her teacher, Sharath Jois, and has has the privilege to study with international renowned teachers as Manju Jois, Eddie Stern, Dena Kingsberg, Mark Robberds, Annie Pace, Danny Paradise, among others.
Inclusive
Sea view
Pool
Fireplace
Internet flatrate/ WiFi
Video-analysis
Maid cleaning service
homemade marmelade
daily fruit
Cofee & tea
Water & juice
Welcome drink
Organization of activities
Extra Services
Airport shuttle:
Guincho: 50€/trip (1-3 pers.)
80€/trip (4-6 pers.)
Algarve: 80€/trip
Extra Yoga: 40€/hour
Massage: 55€/hour
Physiotherapy*
Surf equipment (Surfboards 50€/week, wetsuit, Stand-up-Paddle)*
Bicycles*
Child Care: 15€/hour
Sightseeing-Tour*
MTB-Tour*
Quad-Tour*
Horseback riding (at the beach)*
Comments
Activities / classes are held Monday to Friday. Additional sessions on request.
Arrival & departure is usually Saturdays.
Extension weeks: 1=5%, 2+=10% discount off the full price.
In high-season the minimum required number of participants is 6 persons