Surf guide – Surfari
Instead of surf lessons you prefer a surf guide showing you the best local surf spots any given time? Your are an intermediate to advanced surfer? The surf guiding package is just what are looking for.

Services

Prices

7 nights in double room / suite in villa with pool & sea view
5x guided surf sessions (2-3h)
1x video analysis
7x (organic) breakfast
5x lunch package
Welcome BBQ & seafood lunch
Coffee, tea, water, juice, milk and fruits free
Surprise!
Optional: yoga, sup, massages, mountain bike,..

Surfari / surf guiding holidays in Portugal


low season (Okt-May)
from €949*

main season (Jun-Sep)
from €1049*

*price per person / week
Guided Surf Sessions at the best surf spots around Lisbon area.
If you are already able to surf green waves, want to get to know the best waves around Lisbon area and stay in a comfortable accommodation with pool and a stunning sea view – this is the place to be. This surfari package is your best choice.
Our local surf guides know the area perfectly and love what they are doing for years. They are fully qualified, highly skilled and very passionate about surfing. They are looking forward on sharing their spot knowledge and enthusiasm for surfing with you and make your surf guiding holidays a fun experience for you.
The surf guiding / surfari will take place in a 1 hour radius from Malveira da Serra (Cascais, Lisbon). Depending on given daily swell and wind conditions you will surf breaks at Costa Caparica south of Lisbon, alongside the "linha", heading towards Cascais and of course the Westcoast all the way up to Ericeira.
 
You will be accommodated in a comfortable villa with a pool and sea view in a picturesque mountain village called Malveira da Serra – nested in a paradise-like garden on the slopes of the Serra de Sintra with a breath-taking view over the Atlantic coastal region.
The south-facing location guarantees sun all day long!
The food consists of an organic breakfast, healthy lunch package, welcome BBQ and a Portuguese Seafood lunch, including soft drinks and fruit for free. The fully equipped kitchen is always at your disposal for preparing your favourite dishes with fresh ingredients from the nearby supermarket. There are also many possibilities of eating out in the nearby area.
Those who need even more activities will find numerous possibilities of distraction or challenge in the nearby area and natural reserve. Surfing, golf, climbing, mountain biking, horseback riding, kitesurfing or sightseeing in Sintra or Lisbon, just to name a few things you can do. Praia do Guincho, one of the most adorable beaches in Portugal is just 5min. (by car) away – just perfect for surfing or sun-bathing.
With the
surf guiding / surfari packgage
  you will enjoy surfing the best waves of Lisbon area at the given time and day
on 5 days
.
Costa Caparica is a beach stretch south of Lisbon just across the Bridge 25 de Abril. It stretches many km all the way to Cabo Espichel a cape at the southern end. There is many spots in between and but close to Lisbon there are jetties offering some protection from big incoming northwest swells and shaping nice waves.  Starts working at 2m swells, that close out on the west coast and don't break at the south coast (linha). The waves are better on lower tides in general.
Linha is the coastline between Lisbon and westwards Cascais. Next to the famous beach break Carcavelos, there are numerous rocky points / reef breaks with all different kinds of waves, from hollow and fast to fat and slow for longboarders. Starts working from 2,3m westerly tswells or 2,7m northwest swell. Holds up to 5-6m swells shaping fun 3m waves near Cascais.
Westcoast: Guincho is the nearest beach from Malveira da Serra and offers great surfing conditions from 0,5m to 3m incoming waves. Praia Grande and Pequena are just 20m over the hill, the Sintra mountain range, and offer same conditions as Guincho, with northerly swells a "hand width" bigger waves and less windy. Following the coast up north there are numerous spots all the way up to Ericeira which offer similar conditions in terms of facing west and northwest, some rocky, some beach breaks. In Ericeira there are also a good handful of premium waves that wait for you to be surfed.
Optional you can also go on a short-trip (Surfari) all the way up to Peniche to surf the famous "Supertubos", where the ASP hosts the championships in September or you surf the famous lately discovered big wave spot Nazare. 😉
You are accommodated in our comfortable villa with pool, a paradisiacal garden and panoramic sea views from the entire plot.
You will sleep in stylishly furnished double rooms (some with private bathroom and balcony) and make use of all the amenities and areas of the villa, such as hammocks, deck chairs, chillout-/meditation-area and a fully equipped kitchen for your culinary well-being.
The cozy living room has TV, DVD and Wi-Fi ready for your entertainment. Of course, you also can watch the crackling fire in the fireplace while having a stimulating conversation on the couch.
The large panoramic windows in living and dining room treat you with unforgettable views over the country-side and the Atlantic Ocean.
The beautiful location of the property invites you to spend time outdoors, enjoying and letting the nature soak into your soul. The nearby Praia do Guincho, and the mystical forests of the Serra de Sintra are particularly magical places full of positive energy. There are of course numerous beaches with waves waiting to be explored.
In the morning we serve you a healthy organic breakfast (buffet), consisting of cereal, organic fruit, bread, rolls, homemade jam, milk, yogurt, typical sausages and cheeses of the region and other Portuguese delicacies. We will also serve freshly juiced juices and green smoothies made from fruit and veggies of the season.
Moreover, coffee, various teas, water and fruit are at your disposal during your stay at the Karma Surf Retreat.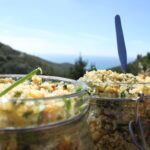 At noon we arrange a delicious healthy packed lunch to enjoy during or after your activities. You can have it at the beach or back home in the villa.
On top, we will organize a Brazilian welcome-BBQ plus a Portuguese seafood lunch. At all other times there is a fully equipped kitchen in the villa at your disposal, so you can prepare your favorite dishes and dine together, for example, on the terrace overlooking the sea watching the sunset.
In case you would like to eat out, there are several restaurants nearby, including typical Portuguese, seafood, grilled chicken, snacks, pizza and also a gourmet restaurant. For sure you will find something you like. You have an even bigger variety of restaurants in Cascais (15 mins). Even Lisbon's stunning culinary diversity (including vegetarian) is only 30 minutes by car and will not leave any wish unfulfilled.
With the surf guiding (or surfari) package   you will improve your surfing skills and get to know the best surfing spots in Lisbon area on 5 days.
Here is an outline of week of surf guiding holidays (surfari):

Saturday is changeover day. Arrive. Breathe. Relax. Explore. There will be time to meet other participants and in the evening there will be a Brazilian Welcome-BBQ altogether.
Sunday is time to chill out and/or discover Lisbon, Sintra, the beaches, the nature, the pool, read your favourite book or just enjoy the stunning view from our beautiful property. Or simply go surf and check out some beaches for yourself.
Monday to Friday you will surf the best spots nearby given the daily wind and wave conditions. Our surf guide will drive you to the assumable best waves nearby.
On Wednesday we will have a delicious typical Portuguese seafood lunch together. Also, you will have the possibility to get a relaxing massage.
After this week of surfguiding / surfari you will have surfed great waves and be able to choose the best surf spot of this area according to your skill level and given weather conditions, any time you surf in this area again.
You will have met lots of like-minded, nice and fun people and have eaten lots of delicious and healthy food. Your overall experience will be a very relaxing and soothing one, giving you lots of fitness and strength, as well as good memories to remember back home in day to day life. Until you come back to fuel up again!
A typical day at Karma Surf Retreat:
…does not exist with the surf guiding package / surfari. 🙂  The guide will inform you the day before if you head out for a early bird / morning session – maybe already at sunrise. You will generate even more energy during the following delicious health organic breakfast at 9h.
After breakfast, if you haven't been already out for surf before breakfast, around 10h, you will be picked up by the surf guide and head out to conquer the best wave for the day – or you wait for the right tide and head out later. Maybe even for relaxing sundown session – the golden hour!  Your healthy packed lunch will be waiting for you ready to take it to the surf spot or being eaten in the villa.
In the evening there is lots of time to relax, prepare a nice meal and dine on the terrace overlooking the whole Cascais landscape and the ocean, or go out for dinner (we can provide personal recommendations). Read a book by the fireplace or in the garden. After an action-loaded day like this you will probably fall asleep early and dream of the waves you will surf the next day.
Pierre Vautrin Mateus
Born in Lisbon, Portugal
Born: October 14th, 1992
Lives in: Lisboa (Portugal)
Profession: Surf instructor, climbing- & mountain bike guide
Favorite sport: Surfing, mountain biking, tennis, skiing
Favorite food: Bacalhau espiritual
Hobbies: Surfing, biking, skiing.
Pierre is a certified surf instructor of the International Surfing Association (ISA) and has been surfing for almost 10 years. Don't let yourself fool by his French name although. He has always lived in Portugal even if his culture is split between two countries. Ironically, he was thought by Alex as a child and since then he is addicted. Pierre is currently studying Sports Sciences with the objective of becoming a surf coach, helping surfers improve thanks to his experience, functional training and video analysis.
A sense of discovery lies within him which leads Pierre to explore the coastline in pursuit of hidden gems. He has travelled around Spain, France, Italy, Morocco, South Africa and the Maldives searching for the best waves to surf and is currently planning to visit the Azores.
He loves to share the passion for surfing and is very enthusiastic about showing you everything about this beautiful country that he calls home.
Inclusive:
Sea view
Pool
Fireplace
Internet flatrate/ WiFi
Video-analysis
Maid cleaning service
homemade marmelade
daily fruit
Cofee & tea
Water & juice
Welcome drink
Organization of activities
Extra Services:
Airport shuttle: Guincho: 50€/trip (1-3 pers.), 80€/trip (4-6 pers.), Algarve: 80€/trip
Extra Yoga: 40€/hour
Pilates: 40€/hour
Massage: 55€/hour
Physiotherapy*
Child Care: 15€/hour
Bicycles*
Surf equipment (Surfboards (50€/week), wetsuit, Stand-up-Paddle)*
Sightseeing-Tour*
MTB-Tour*
Quad-Tour*
Horseback riding (at the beach)*
*Price upon request
Comments
Activities / classes are held Monday to Friday. Additional sessions on request.
Arrival & departure is usually Saturdays.
Extension weeks: 1=5%, 2+=10% discount off the full price.
In high-season the minimum required number of participants is 6 persons
5 stars surfari holiday
Warm sun, pool & sea view
Great guided surfing  & yoga
Healthy food & nice people
Luxurious & stylish accommodation
Fun & pure relaxation!
Thank you for the "like"
Surf Guiding Impressions: