Our surf instructors in Portugal
We run our own surf school (Karma Surf School) and our in-house surf instructors are all certified surf instructors of Portuguese and international federations. They have many years of experience teaching, as a lifeguard and even longer as enthusiastic surfer. They know the surf spots of the area very well, so you will be in best hands and our surf instructors guarantee you to learn how to surf in Portugal.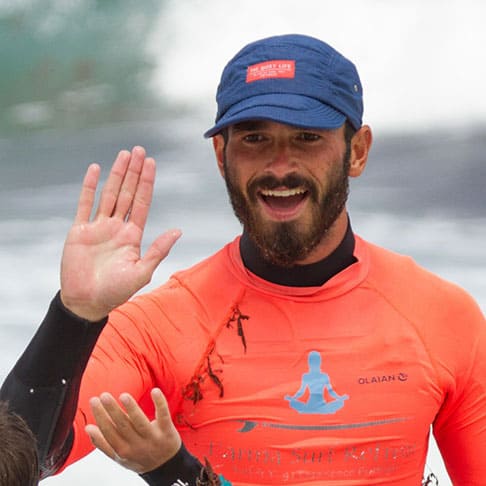 Roland – Headcoach Algarve
Roland spent his holiday times chasing waves around the world, from Cape Verdes to Indonesia and to the Basque Country. These experiences made him a profound surfer, so he combined passion with profession and moved to Portugal, where he could build up his skills and develop new abilities as a surf instructor while transmitting his passion for surfing to our guests. Always with lots of patience and a smile on his face.
Joao – Headcoach Lisbon Area
Joao loves surfing and you can tell – he is in it with all his heart. An this he will share with you.
He is certified surf instructor by the Portuguese Surfing Federation (FPS), Coastal Lifeguard and has been teaching for many years.
Born and raised near the beach and in love with the ocean ever since, he started surfing with age of 14 year. After finishing his Master degree in Human Movement and Health he traveled the world surfing for almost 3 years and surfed waves in Australia, Indonesia, Maldives and some other countries around. As a surf instructor he focuses on security and fun, giving attention to everyone and helping each student individually to their personal surfing success. Joao is a very patient and passionate teacher who will give his best, so everyone is surfing his first wave during a week.
André – Surf instructor
André, born and raised in Lisbon and Cascais, surfs bodyboard already since being little. What has begun as a hobby became his passion and profession, making him truly happy each day. 
Andre is Joaos wing man teaching surfing and also super passionate about it. He just loves to teach surfing lessons for beginners and intermediates, holding a FPS and beach life safer license. His greatest motivation are the success and the smiles of his students manifesting in true happiness. And of course sharing the joy of being one with the ocean.
Umberto – Surf instructor
"Huma" has a big passion for nature and the ocean since ever. Surfing quickly entered his life when he was 10 years old. Since then surfing became a lifestyle for him, until he found the love for not only practicing this sport, but also for teaching it. Huma is a certified surf instructor by the British association, Academy of Surfing Instructors (ASI). Besides from surfing he also studied yoga in India, becoming a certified yoga instructor too. Teaching with empathy and passion he has worked as a surf coach in Portugal , Sri Lanka and Indonesia. He will do his best to teach you in the most fun and easy way, while always keeping safety a priority! 
Miguel – Surf instructor
Miguel is a Guide and teacher at heart. While his real passion is Mountain Biking, he enjoys waves just as much. As a licensed FPS surf instructor with life saver certificate he is one of the best to teach you surfing and show you the beauty of Cascais coastline.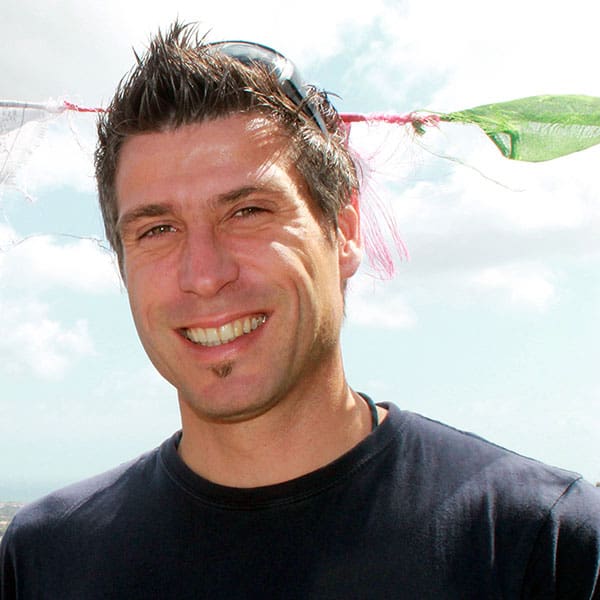 Jens – Surf Guide
Jens discovered surfing only with 30 years of age but is passionate about it ever since. He loves teaching, is ISA and FPS certified and an experienced surf guide having surfed the area for over 10 years by now. Overall he is patient, fun to be with and capable showing you some nice local places to hang out, relax or have a delicious meal.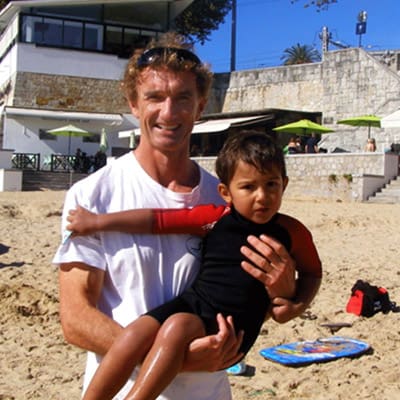 SUP instructor Nick
Nick is a certified surf instructor of the British Surfing Association and keen SUP (Stand up Paddleboarding) enthusiast.
Having spent a lifetime around the ocean sailing/windsurfing and surfing in various locations a few years back Nick decided to launch a stand up paddleboard school in Portugal after realizing the enormous potential for this fast developing sport for almost anyone any age whatever skill level.
With a passion for life and people from all different cultures he realized his dream to work with people and introduce them to this new and exciting sport.
The transition from surfing to paddle boarding was an easy one with the added advantage of being able to go out even when the waves were flat and just cruise with friends exploring this amazing coastline.