For all Surfers, interested in Yoga and for all Yogis willing to learn to surf and for all those who would like to try or already do both, Surfing and Yoga. You need comfort and pure bliss? You found just the right place!
7 days accommodation in double room (suite optional)
10x Yoga classes (1h)
5x surf classes (1,5h)
Surfboard, wetsuit, leash for the surf class
organic breakfast
vegetarian lunch
welcome dinner
Portuguese seafood lunch or dinner
Coffee, tea, water, juice, milk and fruits free
Surf class shuttle
Optional: dinner package, massages, extra activities,..
Quick Availability Check
Just leave your email and desired traveldate for us to get back to you asap with some travel options.
You will enjoy 5 days with 1,5h Surfing lessons, which will take place at the closest beach with suitable conditions possible, depending on group level and wave / weather conditions. Usually driving is to the spot varies between 3-20, maximum 45 minutes. Our surfing coaches are fully qualified, highly skilled and very passionate about surfing. They are keen on sharing their knowledge and enthusiasm for surfing, therefore making your stay a special fun holiday experience for you.
Daily Yoga, 2 x 1h, will support your start into the day by getting you tuned up for the surfing session to come and in the afternoon, in order to regenerate your body from the unknown surfing exercise. Our experienced yoga teachers are fully qualified and licensed. With different Yoga styles offered you will have a lasting Yoga experience and enjoy new inspiration for your daily Yoga training at home.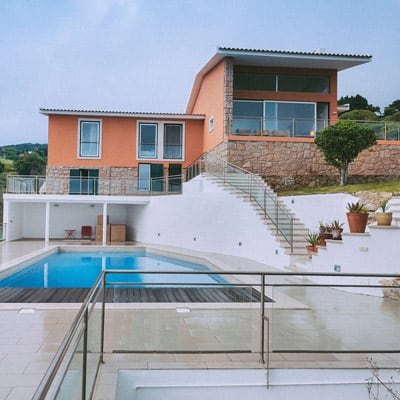 Guincho Bay Villa
| | | |
| --- | --- | --- |
|   | Nov-Mar | Apr-Oct |
| Double Room | 999€ | 1099€ |
| Suite | 1099€ | 1199€ |
| Family Suite | 1149€ | 1249€ |
| Apartment | 1199€ | 1299€ |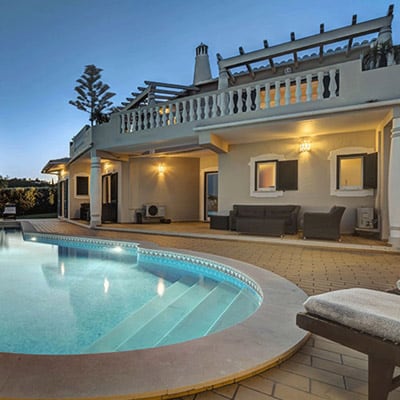 Algarve Villa
| | | |
| --- | --- | --- |
|   | Nov – Mar | Apr -Oct |
| Double Room | 899€ | 999€ |
| Suite | 999€ | 1099€ |
|   |   |   |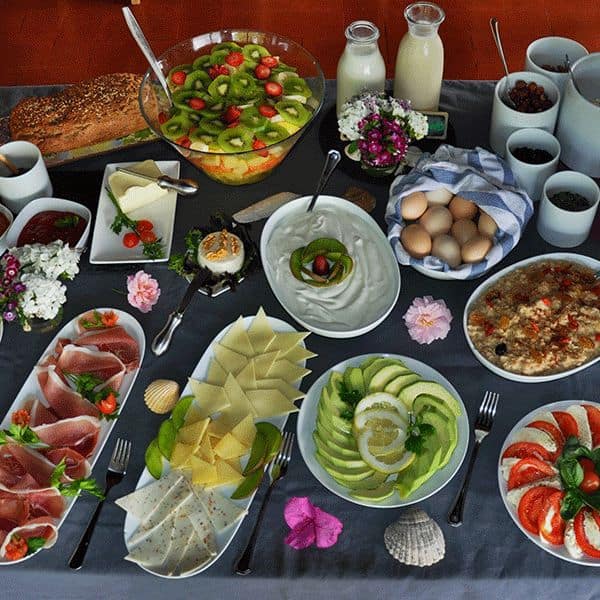 Breakfast
In the morning we serve you a healthy organic breakfast (buffet), consisting of cereal, organic fruit, bread, rolls, homemade jam, milk, yogurt, typical sausages and cheeses of the region and other Portuguese delicacies. We will also serve freshly juiced juices and green smoothies made from fruit and veggies of the season.
Moreover, coffee, various teas, water and fruit are at your disposal during your stay at the Karma Surf Retreat.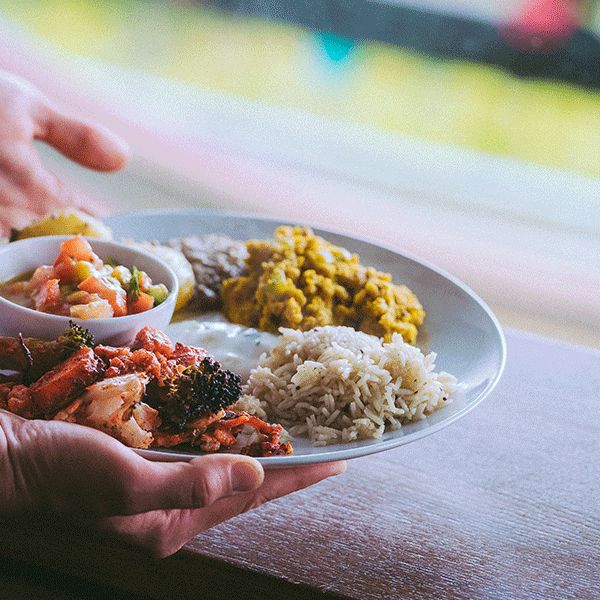 Lunch & Dinner
At noon we arrange a delicious healthy vegetarian lunch (buffet) to enjoy after your activities. On top, we will organize a welcome dinner (bbq) plus a Portuguese seafood lunch. At all other times there is a fully equipped kitchen in the villa at your disposal, so you can prepare your favorite dishes and dine together, for example, on the terrace overlooking the sea watching the sunset.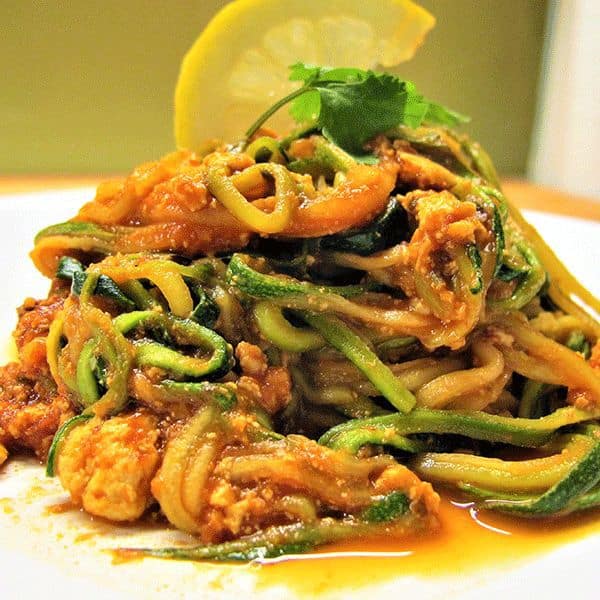 Eating out
n case you would like to eat out, there are several restaurants nearby, including typical Portuguese, seafood, grilled chicken, snacks, pizza and also a gourmet restaurant. For sure you will find something you like.
With the surfing and yoga package you will enjoy learn how to improve your surf skills and have yoga lessons on 5 days.
Saturday
Saturday is changeover day. Arrive. Breathe. Relax. Explore. There will be time to meet other participants and in the evening there will be a Welcome-BBQ altogether.
Sunday
Sunday is time to chill out and/or discover the surrounding cities, venues, beaches, the nature, the pool, read your favourite book or just enjoy the stunning view from our beautiful property. Those who need to be active can as well enjoy one of the many recreational activities the area offers…such as horseback riding, climbing, hiking, mountain biking, scuba diving and and and (whatever you like to do – we make it happen!). But we aware, that one week of daily surfing and yoga will already be a challenging experience for your body. 😉
Monday to Friday
Weekdays you will learn how to surf on nearby beaches and get to know beautiful places along the coastline we all worship so much. You will also be taught in theory of surfing, getting to know about security measures like how to read a beach, weather forecasts and right choice of material. Last but not least you will be living the surfers lifestyle!
Daily Routine
In order to start your surfing experience relaxed and also to calm your muscles down there will be yoga classes in the morning and in the afternoon.
You will start the day with a gentle yoga class in the morning in order to wake up and build up flexibility, strength and confidence for the surfing lessons. The different yoga styles (Hatha/Power/Iyengar Yoga) will ensure a memorable yoga experience and give inspiration for your daily yoga exercise at home.
Then you will fuel up your body with a delicious organic breakfast, so you can start into the day full of energy.
After breakfast our surf instructor will pick you up for the surfing lessons and bring you to the finest surfable beaches of this region, so you will learn how to surf together. The selection of surf spots, of course, depends on your ability, as well as wind and wave conditions.
After the surfing lesson, you can refuel and enjoy the tasty healthy lunch we have prepared for you.
Early in the evening a second yoga session aims at relaxation and stretching your muscles and ligaments. This will help you to recover faster from surfing and reduce the risk of sore muscles.
After this, everyone is free to do whatever he/she wants. A delicious meal on the terrace watching the sunset, eating out, relax with a refreshing drink or tea at the pool, in front of fireplace or simply read an exciting book in your cozy bedroom… We are confident, that with the given variety of possibilities you will find the one that makes you happy the most.
What to Expect
At the end of this week in Karma Surf Retreat you will be able to surf for the first time standing, have improved yoga skills, and met some great like-minded people. You're going to be fit and refueled enough for everyday live back home, take great memories with you and for sure you will be looking forward to come back the next time.
For those who want to deepen the surfing techniques just learned, surf more and experience deep relaxation, we recommend to book at least 2 weeks. In general, this is what you need to really relax properly and get the most fun out of the waves.
Inclusive
Sea view
Pool
Fireplace
Internet flatrate/ WiFi
Video-analysis
Maid cleaning service
homemade marmelade
daily fruit
Cofee & tea
Water & juice
Welcome drink
Organization of activities
Optional
Airport shuttle:
Guincho: 60€/trip (1-3 pers.) 90€/trip (4-6 pers.)
Algarve: 80€/trip
Extra Yoga: 50€/hour
Massage: 60€/hour
Pilates: 50€/hour
Physiotherapy*
Surf equipment (Surfboards 50€/week, wetsuit, Stand-up-Paddle)*
Bicycles*
Child Care: 20€/hour
Sightseeing-Tour*
MTB-Tour*
Quad-Tour*
Horseback riding (at the beach)*
*price on request
Notes
Surf- und Yoga classes are held Monday to Friday.
Arrival & departure according to dates on Saturday.
Extension weeks: 1=5%, 2+=10% discount off the full price.
For single occupancy of a double room (optional) a surcharge of 400€ will be issued.
In high-season the minimum required number of participants is 6 persons