SUP (Stand up Paddleboarding) and Yoga are your favourite holiday activities? Combined with good food and culture? Discover the Cascais coastline by SUP (Stand up Paddleboard) and learn how to do stand up paddleboarding in Portugal! Book now!
7 nights in double room / suite in villa with pool & sea view
5x SUP classes (1,5h)
10x yoga lessons (1h)
7x (organic) breakfast
5x vegetarian lunch
Welcome dinner & seafood lunch
Coffee, tea, water, juice, milk and fruits free
Surprise!
Optional: dinner package, massage, activities
Quick Availability Check
Just leave your email and desired traveldate for us to get back to you asap with some travel options.
SUP (Stand Up Paddleboarding) holidays in Europe's paradise: Portugal!
If you want to do Stand up Paddleboarding (SUP) and Yoga in combination with nice people, healthy and good food, comfortable accommodation, culture and relaxing in a beautiful environment – right here is your place to spend your holidays!
The SUP Classes
Stand up paddleboarding classes will take place on Cascais beach (protected bay) and depending on the group level and weather/wave conditions; you will go on tours along the coastline around Cascais or alternative beaches. You will get to know this trendy sport and improve your SUP skills. After 1-2 days you will be able to stand with stability and maneuver with the stand up paddleboard in the protected and calm waters of the Cascais bay. At the end of the week you will be able to tour alongside the coast and also maneuver in more exposed waters. Maybe you will try and ride your first little wave.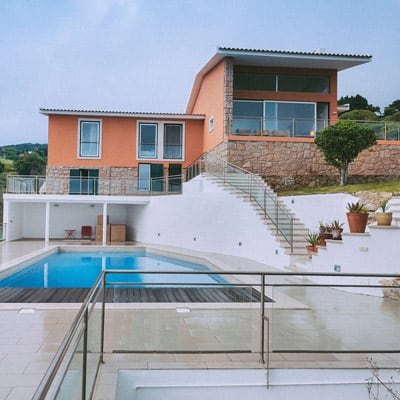 Guincho Bay Villa
| | | |
| --- | --- | --- |
|   | Nov – Mar | Apr -Sep |
| Double Room | 1099€ | 1199€ |
| Suite | 1199€ | 1299€ |
| Family Suite | 1249€ | 1349€ |
| Apartment | 1299€ | 1399€ |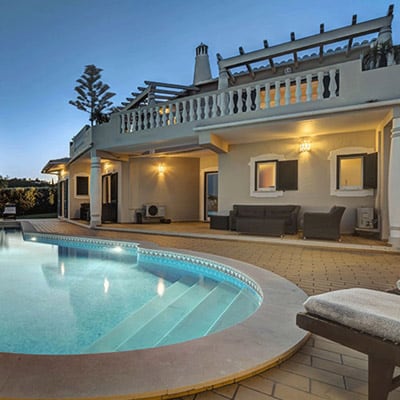 Algarve Villa
| | | |
| --- | --- | --- |
|   | Nov – Mar | Apr -Oct |
| Double Room | 999€ | 1099€ |
| Suite | 1099€ | 1199€ |
SUP Instructors
Our SUP-coaches are fully qualified, highly skilled and very passionate about stand up paddleboarding. They are keen on sharing their knowledge and enthusiasm for Stand up paddling, therefore making your stay a special fun holiday experience for you.
Daily Yoga
Daily exercise will support your start of the day, get you in tune for the stand up paddling and in the afternoon regenerate your body from the unknown SUP-exercise. With the two different Yoga styles offered you will have a lasting Yoga experience and enjoy new inspiration for your daily Yoga training at home.
Retreat
You will be accommodated in a comfortable villa or house. Our accommodations are well chosen, situated in prime locations, of high standard and maintained with special attention to details. There are local hosts responsible for every of your needs dedicated to making your stay a pleasant and unforgettable one.
Food
The food consists of an organic breakfast, healthy vegetarian lunch , welcome dinner and a Portuguese Seafood lunch, including soft drinks and fruit for free. The fully equipped kitchen is always at your disposal for preparing your favourite dishes with fresh ingredients from the nearby supermarket. There are also many possibilities of eating out in the nearby area.
Extra Activities
Those who need even more activities, will find numerous possibilities of distraction or challenge in the nearby area and natural reserve. Surfing, golf, climbing, mountain biking, horseback riding, kitesurfing or sightseeing in Sintra or Lisbon, just to name a few things you can do. Praia do Guincho, one of the most adorable beaches in Portugal is just 5min. (by car) away – just perfect for surfing or sun-bathing.
With the SUP (stand up paddleboarding) and yoga package you will enjoy learn how to our improving your SUP skills and have yoga lessons on 5 days.
Saturday
Saturday is changeover day. Arrive. Breathe. Relax. Explore. There will be time to meet other participants and in the evening there will be a Brazilian or Portuguese Welcome-dinner altogether.
Sunday
Sunday is time to acclimatise and/or discover Lisbon, Sintra, the beaches, the nature by hiking, the pool, read your favourite book or just enjoy the stunning view from our beautiful property.
Monday
Monday  we will get into the gear with the 2 Yoga sessions in the morning and evening. The SUP-course will start with an introduction and theory / safety instructions on the beach, as well as you first encounter with a stand up paddleboard on the calm water in the protected bay of Cascais.
Changes to this suggested outline may apply due to unpredictable weather conditions and skill level of the group.
Tuesday
Tuesday you will be able to do your first controlled and stable paddle strokes and learn first maneuvers with the stand up paddleboard. It's also fun to paddle to the nearby anchored yachts and fishing boats and have look and a chat.
Wednesday
Wednesday will be the day to practice maneuvers, repeat some theory and maybe if the weather and wave conditions allow you to do so, go on a little SUP-tour outside the protected bay. The SUP-coaches will make sure you are hungry, because we will be awaiting you for a delicious Portuguese seafood lunch.
Thursday
Thursday you can practice stand up paddleboarding in more exposed watersand gain confidence with exercises and games with the SUP in the water.
Friday
Friday, depending on the fitness and skill level of the group, today will be the day to go for a stand up paddleboarding tour along the coastline, play a fun and challenging game that requires full SUP maneuverability skills or even try to surf your first little wave!
What to expect
After this week of SUP & YOGA you will be able to confidently do stand up paddle boarding maneuvers in calm as well as exposed (choppy) waters, evaluate a safe SUP environment for yourself, know what equipment to rent and last but not least know how to behave towards fellow participants of other sports inside the water (SUP etiquette). You will have met lots of like-minded, nice and fun people and have eaten lots of delicious and healthy food. Your overall experience will be a very relaxing and soothing one, giving you lots of fitness and strength, as well as good memories to remember back home in day to day life. Until you come to fuel up again!
Daily routine
A typical day at Karma Surf Retreat:
The day starts at 8h with a gentle morning yoga class for you to wake up and to salutate the sun. You will generate even more energy during the following delicious health organic breakfast at 9h.
After breakfast, around 10h, you will be picked up and brought to our partner SUP school in Cascais, where you will enjoy your SUP lesson. Upon returning home around 14h, there will be some time to enjoy your healthy vegetarian lunch and chill out a bit. If you want you can of course stay at the beach seeking the soothing sunlight. Alternatively you enjoy the pool and beautiful garden of the secluded villa and read a book or socialize with other guests. Others go for other activities or some quick sightseeing. You are on holiday – feel free to do whatever you want.
In the afternoon at 16/17h there will be a second Yoga session also with some stretching elements in order to soften the effects of the unknown exercise of the stand up paddle boarding. You will feel it in the arms, shoulders and back, but also it the upper legs and butt area.
In the evening there is lots of time to relax, prepare a nice meal and dine on the terrace overlooking the whole Cascais landscape and the ocean, or go out for dinner (we can provide personal recommendations). Read a book by the fireplace or in the garden. After an action-loaded day like this you will probably fall asleep early, well and deep for a rejuvenating sleep.
The food consists of an organic breakfast, healthy vegetarian lunch, welcome dinner and a Portuguese seafood lunch, including water, coffee. tea and fruit for free. Vegan/vegetarian dinners are offered optional. The fully equipped kitchen is always at your disposal for preparing your favorite dishes with fresh ingredients from the nearby (super-)market. There are also many possibilities of eating out.
Breakfast
In the morning we serve you a healthy organic breakfast (buffet), consisting of cereal, organic fruit, bread, rolls, homemade jam, milk, yogurt, typical sausages and cheeses of the region and other Portuguese delicacies. We will also serve freshly juiced juices and green smoothies made from fruit and veggies of the season. Moreover, coffee, various teas, water and fruit are at your disposal during your stay at the Karma Surf Retreat.
Lunch & Dinner
At noon we arrange a delicious healthy vegetarian lunch to enjoy after your activities. On top, we will organize a welcome dinner plus a Portuguese seafood lunch. At all other times there is a fully equipped kitchen in the villa at your disposal, so you can prepare your favorite dishes and dine together, for example, on the terrace overlooking the sea watching the sunset.
Eating Out
In case you would like to eat out, there are several restaurants nearby, including typical Portuguese, seafood, grilled chicken, snacks, pizza and also a gourmet restaurant. For sure you will find something you like.
You have an even bigger variety of restaurants in the cities nearby in Cascais (15mins) or Sintra (15mins), if you are in Lisbon Area – Even Lisbon's stunning culinary diversity (including vegetarian) is only 30 minutes by car and will not leave any wish unfulfilled. If you stay at Algarve then Lagos and Sagres offer plenty of good food and loactions to eat out.
Inclusive
Sea view
Pool
Fireplace
Internet flatrate/ WiFi
Video-analysis
Maid cleaning service
homemade marmelade
daily fruit
Cofee & tea
Water & juice
Welcome drink
Organization of activities
Optional
Airport shuttle:
Guincho: 60€/trip (1-3 pers.) 90€/trip (4-6 pers.)
Algarve: 80€/trip
Extra Yoga: 50€/hour
Massage: 60€/hour
Pilates: 50€/hour
Physiotherapy*
Surf equipment (Surfboards 50€/week, wetsuit, Stand-up-Paddle)*
Bicycles*
Child Care: 20€/hour
Sightseeing-Tour*
MTB-Tour*
Quad-Tour*
Horseback riding (at the beach)*
*price on request
Notes
Surf- und Yoga classes are held Monday to Friday.
Arrival & departure according to dates on Saturday.
Extension weeks: 1=5%, 2+=10% discount off the full price.
For single occupancy of a double room (optional) a surcharge of 400€ will be issued.
In high-season the minimum required number of participants is 6 persons