A digital nomads dream...
Live, work and play in this fantastic villa!
Coliving & Coworking near Lisbon – Portugal
Coliving and coworking in Portugal near Lisbon is what you are looking for as a remote working digital nomad or entrepreneur? Your company plans an incentive, off-site or team retreat? Join our perfect space for high quality coliving and coworking and be part of a like-minded community of remote workers, digital nomads and creatives.
AIRPORT SHUTTLE
reach your destination comfortable, on time and without stress.
HEALTHY BREAKFAST
organic breakfast, coffee, tea, milk, juice and fruits (all day).
KITCHEN WITH EXTRA+
fully equipped kitchen with vegan chef on-site, ready to cook for you.
HIGH SPEED WIFI (200Mbps)
in all areas (living room and bedroom, pool and coworking space).
CLEANING SERVICE
weekly cleaning of all areas and change of bed linen and towels.
HYGIENE NECCESSITIES
towels, bed linen, soap, detergents, kitchen- and toilet paper.
COWORKING SPACE
and YOGA ROOM with sea view, office infrastructure and 24/7 access.
FRIENDLY LOCAL HOST
Happiness Ambassador – helps, organizes and gives you tips for your free time.
LIVE
COSY BEDROOM IN STUNNING VILLA
with sea views and fully furnished – private or shared, with shared or en-suite bathroom.

COMMUNITY
meet like-minded people who create synergies and make friends.

LAUNDRY FACILITY
access to washingmachine and dryer on site
RELAX
POOL – JACUZZI – SAUNA – SUN DECK
as well as sun loungers and hammocks free of charge and all with a sea view.
MEDITATION- AND YOGA DECK
for some me-time to recharge your batteries. Both with great sea views.
MASSAGE (optional)
therapists on stand-by to give you a massage (Swedish, foot reflexology, ayurvedic).
PLAY
INDOOR ENTERTAINMENT
Billiard table, SONOS sound system, sofa corner with projector, PC and board games.
OUTDOOR ACTIVITIES (optional)
in-house teachers and guides for surfing, yoga, climbing, hiking, MTB and SUP available.
ON-SITE CLIMBING ROCK 
with 10 prepared climbing routes with different levels (beginner to advanced).
SHARED ROOM
per
night
week
month
Double room
(shared bathroom)
71€
500€

1700€

Double room
(ensuite bathroom)
86€
600€

2040€

Apartment
93€
650€

2210€
PRIVATE ROOM
per
night
week
month
Single room
(ensuite bathroom)
100€
700€
2380€
Double room
(shared bathroom)
100€
700€
2380€
Double room
(ensuite bathroom)
114€
800€
2720€
Apartment
136€
950€
3230€
THE COLIVING VILLA
The coliving & coworking space near Lisbon, Guincho Bay Villa, is situated secluded in the first line on the coast in Figueira do Guincho, a small cluster of luxury villas on the slopes of the Serra de Sintra. The villa is located on a large plot of land with breathtaking sea views, surrounded by a wild, romantic coastal landscape and pure nature.
The stylish villa... (read on)
…with Malibu flair can accommodate max. 14 people in 5 lovingly and functionally furnished bedrooms and 1 apartment and impresses with a incomparable 1 million euro sea view from almost all rooms and the common areas.
Thanks to the features of this coliving villa with pool, jacuzzi, sauna, cozy rooms, large living and dining area with fireplace, fast and stable WiFi, yoga and meditation deck, coworking space and yoga house, cleaning service, fully equipped kitchen, vegetarian / vegan chef on -site, secure parking in front of the door, you don't have miss out on any important amenities. Last but not least due to the friendly local host, who gives you a warm welcome and supports you with tips and organization of your leisure time during your stay at Portugals hottest coliving and cowork destination near Lisbon.
There is a lot to discover in the area around what is currently considered the best coliving location in Portugal. With numerous outdoor and sightseeing options in the area around Lisbon, Cascais and Sintra, it will be easy for you to work productively, relax, to get to know Portugal's people, culture, beaches and waves better and to have an unforgettable time.
THE COWORK SPACE
Our cowork space hosts single desks chillout areas / puffs and offers a tremendously inspiring view over the ocean and coastal scenery. There is sufficient plugs to power all your appliances, a printer, paper and pens. On demand we can arrange more chairs or group-tables for true colaborating. 
COLIVING ROOMS
All 5 rooms and the apartment have sea views, are fully furnished and decorated with zen and love. Thanks to comfortable mattresses and a practical layout, you will instantly feel at home.
WHERE TO SLEEP?
You can choose between 5 rooms and the apartment, all of which have a slightly different layout: Room 1 is a single room with a queen-size double bed and has an en-suite bathroom. All other rooms have twin beds that can be pushed together if necessary. Three rooms (1 + 4 + 5) and the apartment have en-suite bathrooms, rooms 2 and 3 share one. Room 5 has an additional, slightly lower (children's) room and has space for a total of 4 beds and its own terrace. The apartment also has space for max. 4 people and has its own kitchen in addition to its own terrace. Both are therefore suitable for small groups (/ friends) or families. All rooms (except two) have built-in wardrobes, some have their own desk.
INCLUDED
hair dryer
safe
built-in wardrobe
electric heater / fan
soap, shampoo, toilet paper
towels
bed linen
cleaning service (weekly)
fresh bed linen and towels (weekly)
COMMON AREAS
LIVING AND DINING AREA.
With a terrace and a breathtaking view of the bay of Guincho Beach, everyone will find their place by the fireplace, on the sofas or the large dining table to snack, chill out or work on your latest project.
A SONOS sound system, pool table, sofa lounge with projector, PC, cable TV and board games give some entertainment options between your work units.
POOL AREA.
Directly in front of the villa and facing south is the pool area with sun loungers, sofas, hammocks, as well as the jacuzzi and sauna with sea views.
MEDITATION- & YOGA DECK & HOUSE. 
The meditation deck is located south of the property and secluded thereby offering a quiet ambience for meditation. The yoga deck nestles against the rocks below the villa and offers a great view of the surrounding coastal landscape and the ocean as well. Sometimes even with the sound of waves as a soundtrack for yoga or meditation. If the weather conditions are not suitable for outdoor yoga, the yoga house / coworking space offers the opportunity to practice yoga indoors.
CLIMBING ROCK.
Between the yoga and meditation deck is our in-house, southwest-facing, private climbing rock with 15m (granite) wall and 10 climbing routes with different levels. Our outdoor & climbing guide will be happy to teach and climb with you there and show you other nice spots nearby.
THE KARMA KITCHEN & NUTRITION
The Karma Coliving Villa not only has a fully equipped kitchen with all necessary and useful appliances and tools, such as granite countertops, 2-part sink, side-by-side refrigerator with filtered water and ice cube dispenser, freezer, microwave, oven, gas stove, juicer, Thermomix, toaster, coffee maker, kettle, dishwasher, so that you can prepare your favorite food.
BUT also offers an incredibly special extra: a vegetarian / vegan chef on-site, who is just waiting to prepare for you some healthy delicacies, cooked with love. So, if you don't feel like cooking, simply have a good time and just add a meal (e.g. € 12.50 – 3 course lunch menu, € 17.50 – 3 course dinner menu).
In order for you to start the day satisfied and strengthened, we serve you a holistic, healthy organic breakfast every morning consisting of fresh fruits, green smoothies, freshly squeezed juices, homemade bread and jams, porridge, various mueslis, nuts and dried fruits, various types of milk (cow, cereal, nut), yogurt, scrambled eggs, as well as typical local or vegan specialties of the house.
When choosing the ingredients for the breakfast buffet and menus, we are also happy to consider your eating habits, diets and intolerances (gluten, lactose, allergies) and make sure that exactly the right food is served on your plate.
For self-caterers, the next super- and local vegetable market can be reached in about 5 minutes by car. Of course, we can also give you good restaurant tips if you want to eat out.
ACTIVITIES
Work hard – play hard – balance your life. We understand and do live by that. That's why we make optionally available to you the best and  fun outdoor activities of this area. All provided by our in-house guides and instructors. Just let your friendly host or activity coordinator know what's on your bucket list or what you don't want to miss out on during your stay and he will set up everything with you.
SURFING
Our in-house Karma Surf School is ready to teach you surfing with passionate teachers. Surf lessons for beginners with equipment and a beach shuttle are available from € 30 (4+ pax). Surf lessons for intermediate and advanced surfers, surf guiding and rental of surf gear available: www.karmasurfschool.com
YOGA
If you do not want to miss out on your daily yoga routine while coliving with us – no problem. Our experienced yoga teachers (Hatha, Power, Ashtanga, Yin, Vinyasa) are waiting to share their energy with you on our beautiful yoga deck. Lessons for groups (3+ pax) are available from € 15 (material included).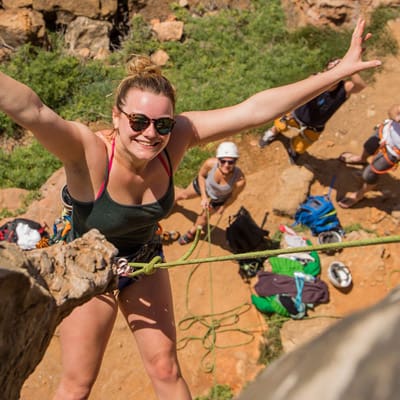 CLIMBING
Keen on learning how to climb or already experienced cliffhanger? Our climbing guide will be happy to show you our own granite climbing rock with 10 climbing routes (various levels) or other great spots in this area: in the nature reserve of the Sintra mountains or the cliffs of Cascais. From € 40, incl. material (rental).
MOUNTAIN BIKING
The Sintra ridge and the coastal region offer a rich variety of MTB trails for wild downhill action or for cruising up and down dirt roads and small paths through the mystical forest. Our MTB guide is looking forward to sharing with you all of them. Guided MTB tours are available from € 40. Bike rental (hardtail or fully), as well as e-bikes are also available.
HIKING
If you rather prefer to discover the mystical forests of the Sintra Mountains and the coastal region with its picturesque little villages, as well as its remote wild beaches by foot, our guide will show you a few beautiful places on paths away from the usual tourist flows. Guided hikes are available from € 30 (3+ pax).
CULTURE
The nearby Lisbon, Sintra and Cascais offer many sightseeing locations, museums, exhibitions, wine tastings, Fado cellars and good restaurants. We'll provide you with the best local tips, so you don't land in tourist traps. Our guide is also available to show you the most interesting places and to provide you with background knowledge from € 50 / tour.
LOCATION
The Karma Coliving and Coworking Villa (Karma Surf Retreat – Guincho Bay Villa) is in the small coastal town of Figueira do Guincho, only 15 minutes from Cascais and Sintra and 40 minutes from Lisbon (Airport LIS). In 10 minutes, you can reach the westernmost town in Europe, Cabo da Roca.
Nearest airport: Lisbon (LIS), distance: 40km or 40 minutes.
Nearest train station: Cascais, distance: 11km or 18 minutes.
Nearest bus stop: Biscaia, bus 403. Distance 12 minutes on foot
You are most flexible with usually inexpensive rental cars – a clear recommendation for the independent explorer type traveler. If you don't want to explore everything on your own and use our offer for catering and outdoor activities, you don't actually need a rental car and can use public transport for your excursions or an inexpensive taxi or Uber.
 GETTING THERE
We would be happy to pick you up at Lisbon Airport (LIS) with our shuttle bus.
The journey by car (shuttle, rental car, taxi, Uber) takes around 40 minutes and costs around € 40 by taxi.
Alternatively, you can use public transport (bus to Cais do Sodré, train to Cascais, bus 403 to Biscaia, a 12-minute walk). This takes around 1.5 hours + and costs around € 10.
Maria - Headchef
Maria is a native of Cape Verde and a passionate cook. Every dish is prepared and served with love. You will taste the difference. Look forward to an excellent breakfast and vegetarian/ vegan dishes that fueling you with energy and health.
Miguel - Outdoor Guide
Miguel loves outdoor adventures. Whether it's hiking, climbing or mountain biking and surfing – as a local he knows everything about the surrounding nature and likes to share his passion for outdoor sports with you. 
Joao - Surf Headcoach
Joao is a passionate surfer and coach for all levels. He grew up on this stretch of coast but never missed an opportunity to find new surf spots and friends around the world – now keen on teaching you how to surf (beginner to advanced). 
Optional Services
Surf lessons (group 3+ pax): from € 30 (beginners), from 45 € (intermediates)
Yoga lessons: € 15 / session (min. 3 participants or € 50 private lesson)
Surf guiding for intermediate / advanced: from € 60
Climbing lessons: € 40 (including equipment)
Guided MTB tour: € 40
SUP lesson: € 40
Guided hike or sightseeing: from € 40
Massage: 50 minutes – € 50, 30 minutes – € 35
Lunch (vegetarian / vegan): 3 courses – € 12.50
Dinner (vegetarian / vegan): 3 courses – € 17.50
Rental: surfboards: € 15 / day (soft), € 20 / day (hard / comp), bodyboard: € 10 / day, neoprene: € 10 / day, MTB: hardtail € 15 / day, fully suspended: € 25 / day e-bike: € 35 / day
Childcare: € 15/h
Horse riding (on request)
Comments
Our Covid-19 hygiene concept in effect, so that all residents are safe and stay healthy, includes wearing masks (staff), dispensers with disinfectants in all areas, good and regular ventilation and disinfecting all areas of the villa, social distancing
All prices in EUR (€)
The minimum stay is 3 days (2 nights).
Prices are based on an adult. There is a 5% discount if you come as a couple or best friends.
Extension weeks: 1 = 5%, 2+ = 10% discount
As it is a supervised coliving space, the rooms are not transferable.
Check-in from 2 p.m., check-out by 10 a.m.
Sorry, pets are not allowed.
Smoking is not permitted inside the building but outside.
The rooms are checked and cleaned weekly.
Low room volume applies from 10 p.m., unless everyone agrees on an exception. That means ALL have to accept.
Please, always respect the other guests.